ABOUT THE 2023 LIBERTY FESTIVAL
WHEN:

October 13-15, 2023 (8:30am - 5:00pm each day) 
WHERE:

The Alltech Arena at the Kentucky Horse Park (Lexington, Kentucky)
WHAT:

The first of its kind and only expo dedicated entirely to Liberty. This one of a kind event is an opportunity to:

 

Get ready to be mesmerized by the captivating world of Liberty. The Liberty Festival brings together the best of the discipline, offering you an unforgettable experience featuring:

 

🎓 World-Class Education: Witness awe-inspiring Liberty training demonstrations and educational sessions by internationally acclaimed clinicians, such as Ben Atkinson, Ty Murray, Warwick Schiller, and many more. Learn from the masters and elevate your own Liberty skills!

 

🎉 Spectacular Entertainment: Be enchanted by an exclusive nighttime equine show starring Ben Atkinson, Dan James of Double Dan Horsemanship, top Liberty performers, and an exhilarating Invitational Liberty Freestyle Competition. This is entertainment you won't find anywhere else!

 

🏆 Exciting Competition: Experience the thrill of the International Liberty Horse Association Championship Show, featuring 12+ classes and 4 levels of difficulty per class. Witness Youth, Senior, Non-Pro & Pro competitors showcase theirs and their horses' Liberty skills!

 

🛍️ Unique Shopping Opportunities: Explore an array of vendors from across the equine industry, including those offering Liberty-specific products and services. Shop till you drop while discovering the latest trends and innovations!

 

👥 Unforgettable Community Connections: Forge lasting connections with fellow Liberty enthusiasts during this 3-day extravaganza. Share your passion, learn from others, become part of a vibrant & growing community and leave inspired.

 

Don't miss out on this incredible opportunity to immerse yourself in the Liberty community at the Liberty Festival. Secure your tickets now and experience the best the industry has to offer, all in one place!

 
HOW:

 Click the button below to get your tickets today!
Glo Best Western (Lexington, KY)
SPECIAL DISCOUNT Rate for 2023 Liberty Festival Attendees.
BOOK NOW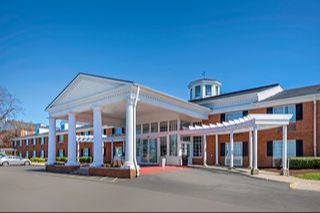 Clarion Hotel (Lexington, KY)
SPECIAL DISCOUNT rate for 2023 Liberty Festival Attendees. Pets welcome.
BOOK NOW
DON'T MISS A THING!
Just tell us where to send updates about the Liberty Festival.
(Don't worry, we hate SPAM as much as you do. We will never share or sell your email and we will never send SPAM!)
BEN ATKINSON
Ben Atkinson is a renowned movie horse trainer, who has built a stellar reputation in the entertainment industry for his exceptional skills in training horses for the big screen. Born in the United Kingdom, Ben comes from a family of horse trainers and riders, and grew up around horses, developing a deep love and understanding of these magnificent animals. Over the years, he has trained horses for some of the biggest productions in the world, including "War Horse", "Robin Hood", "Poldark", and "Peaky Blinders". Ben's unique approach to horse training focuses on building a strong bond and mutual trust between horse and rider, which is evident in the seamless and realistic performances he helps to create. His dedication and passion for his craft have earned him a reputation as one of the most skilled and sought-after movie horse trainers in the industry today.
TY MURRAY
Ty Murray is a legendary rodeo cowboy and one of the most accomplished athletes in the sport's history. Born and raised in Arizona, Ty's love for rodeo began at a young age, and he went on to become a seven-time all-around world champion, as well as a ProRodeo Hall of Fame inductee. Beyond his impressive rodeo career, Ty is also known for his innovative approach to horsemanship, including his groundbreaking work with bridleless and liberty riding. Drawing on his deep understanding of horses and his years of experience in the rodeo arena, Ty has developed a unique approach to horse training and performance that emphasizes trust, communication, and mutual respect between horse and rider. Today, he is recognized as one of the foremost experts in the field of horsemanship, and his bridleless and liberty work continue to inspire and captivate audiences around the world.
WARWICK SCHILLER
Warwick Schiller is a world-renowned horse trainer and clinician, who has gained a reputation for his unique approach to horsemanship. Born in Australia, Warwick started his equestrian journey as a successful reining horse trainer, winning multiple championships in the United States and around the world. However, he soon realized that there was more to horse training than just competition, and began to develop a philosophy centered on building a partnership with horses based on mutual trust, respect, and understanding. Today, Warwick is recognized as a leading expert in the field of horsemanship, with a particular focus on helping horse owners and riders develop a deeper connection with their horses, and address behavioral issues with empathy and understanding. His passion for helping people and horses reach their full potential has made him a sought-after clinician and speaker, and his innovative training methods continue to inspire and empower horse lovers around the world.
SKYE LIIKANEN
Skye Liikanen is a highly accomplished horse trainer and the founder Silver Sky Equine. Skye grew up riding horses and was competitive at the national level in both Dressage and Showing. She spent over four years as a trick rider/performer at the Australian Outback Spectacular and has become an expert in natural horsemanship and liberty training, with a focus on developing a deep understanding of the horse's behavior and communication. Skye's unique approach to horse training emphasizes trust, respect, and empathy, and has helped countless horses and riders achieve a deeper connection and partnership. Skye successfully competed in the 2018 Retired Racehorse Project's TB Makeover, winning the Dressage Championship and placing 4th in the Freestyle in a field of over 100 competitors. Skye has since returned to Australia, where she continues to work with client horses and re-educate thoroughbreds through her partnership with International Thoroughbred Retirement. With her unwavering commitment to developing her horsemanship skills and her most recent win at the Way of the Horse a Colt Starting competition at Equitana in 2022, Skye is a true inspiration to horse lovers and trainers world wide.
CHELSEA CANEDY
Chelsea Canedy is a highly regarded horse trainer, clinician, and educator, who has built a reputation for her innovative and compassionate approach to horsemanship. Based in Maine, Chelsea offers a wide range of training services, from starting young horses to fine-tuning performance horses in dressage, jumping, and eventing. With a focus on building a strong foundation of trust and communication between horse and rider, Chelsea's training methods emphasize empathy, respect, and positive reinforcement. Her commitment to excellence has earned her numerous regional and national titles in each discipline, as well as a loyal following among horse lovers and trainers around the world. Chelsea offers a wealth of resources for horse owners and riders, including online courses, workshops, and one-on-one coaching sessions. Whether you're a seasoned competitor or a beginner rider, Chelsea's expertise and passion for her work make her a valuable resource for anyone looking to deepen their connection with their equine partner.
 Special Thanks to our Sponsors!
We are extremely grateful for all the support! Sponsors like you make it possible to continue making strides towards new opportunities! 
The International Liberty Horse Association (ILHA) is the first and only association dedicated to the Liberty discipline.  The ILHA exists to celebrate and advance Liberty by creating shows and competitions to bring Liberty trainers, competitors, enthusiasts, and horses together for the benefit and promotion of this unique and exciting discipline. Learn more about the ILHA HERE.